Customer Reviews
04/13/2021
Lee J.

United States
It's always correct. It's always timely. It lasts. Everything.
Lee, thank your for this great 5-star review! We are very happy that you've been pleased with our products and service. Look forward to serving you in the future!
03/21/2021
Bryan P.

United States
Quality Vinyl Decal
Shipping FAST FAST FAST! I ordered thinking I wouldn't get it before my trip and it came much sooner than I expected. Decal is on a perfectly rectangle backing so applying it and making it straight was easy! Quality vinyl so I don't think it will peel up anytime soon!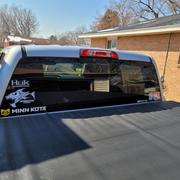 Decal looks great on your truck. Thank you for the review!
01/19/2021
Kyle K.

United States
Awesome company
I love what I purchased. The hoodie design is great love my beanie my hat and my sticker look forward to making my next purchase.
Kyle, we are happy that you are pleased with your hoodie, beanie and decal! Thanks for the order, and thank you for taking the time to leave us this great review...much appreciated!
01/04/2021
Blaine W.

United States
Fast shipping
Looks great! Was a little delicate but wasn't bad at all. Excited to rep shredfin
Blaine, glad that you like your decal! We're glad that you like it. We appreciate your business!
01/01/2021
Chris C.

United States
Die cut
Love all the products . Need more Flexfit hats.
Hi Chris, thank you for leaving us a review! We're happy that you are pleased with our products. Thank you for the suggestion as well. Keep an eye on the website, we do plan to offer a few more flexfit hats this year. Thanks for your business!