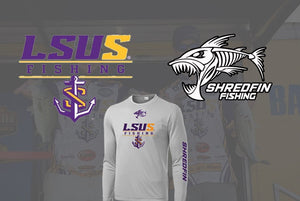 ShredFin Sponsors LSUS Collegiate Fishing Team
News Release: Shreveport, Louisiana. January 16th, 2020
ShredFin, a Louisiana-based fishing apparel company, has been added as a sponsor for the LSU – Shreveport Collegiate Bass Fishing Team. The LSUS fishing team has a solid tournament history, including several top 10 finishes, and National Championship appearances.
The Coach of the LSUS team, Charles Thompson, had this to say about the sponsorship. "We're excited about the upcoming season. It's great to work with a local veteran owned company with outstanding products and a solid reputation. Quality fishing apparel is important to us as anglers, and ShredFin has really hit the mark. We're looking forward to working together to grow the LSUS Fishing Team and the ShredFin brand."
This year the LSUS team is set to compete in FLW and B.A.S.S. collegiate tournaments across the country in Louisiana, Alabama, Georgia, Missouri, South Carolina, California, Kentucky, and Wisconsin. The first stop is right here at home on Toledo Bend.
The owner of ShredFin Fishing Company, Cass Caldwell had this to say about the sponsorship. "First off, it's great to work with an outstanding university like LSUS. The fact that we get to work with and support a local university is even better. The fishing team has had great success in the past, and I can't wait to see what the future holds. The foundation has been laid, but Coach Charles Thompson will take them to new heights. We are super excited about this opportunity and can't wait for the season to kick off, and wish the team the best of luck!
The LSUS Fishing Team can be followed on Facebook at https://www.facebook.com/lsusfishing/
They also have a website that can be accessed here: http://www.lsusathletics.com/sport/0/9
The team is also sponsored by Dr. Lacy H. Williams, Troy Dupree AC and heating, Miles for Smiles Mobile Dental Care, Bass Pro Shops, and Ray Moore Wireline Inc.
---