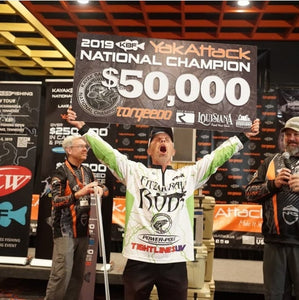 Mike Elsea - 2019 Kayak Bass Fishing (KBF) National Champion Joins Team ShredFin
Press Release – Bossier City, Louisiana, December 13th 2021
Professional kayak tournament angler Mike Elsea from Mooreville, Indiana has joined the ShredFin Fishing Team.  ShredFin is a Bossier City, Louisiana based fishing apparel company offering apparel designed to keep anglers comfortable on the water.
Mike has been bass fishing competitively for many years. Prior to kayak tournament fishing, he fished the Bassmaster Opens and FLW Costa Series. He now travels around the country competing in kayak bass fishing tournaments at the professional level.
In 2017, Mike tried his hand at kayak tournament fishing. It was a smart move.  He's had great success at the national level including winning the 2019 Kayak Bass Fishing (KBF) National Championship. He was also the 2018 KBF Challenge Series Angler of the Year, and garnered a 2nd place finish in the 2019 KBF Southeast Regional Championship.
ShredFin owner Cass Caldwell is looking forward to working with Mike and expanding the brand into the kayak tournament scene. He had this to say about the partnership:
"Due to the growth of the kayak bass fishing tournament scene, we knew we needed to grow our brand in that sector of the sport.  In October of 2021, we met Mike during the KBF National Championship Expo in Shreveport, Louisiana.  Upon meeting Mike, we knew that he'd be a great addition to our team, and would be a great ambassador for us in the kayak tournament world. 
We are always looking to add great anglers to our team, but more importantly, we want great guys to represent our brand.  Mike definitely checks both boxes.  I'm really looking forward to this partnership and growing ShredFin throughout the kayak fishing world. Mike has made a name for himself amongst kayak tournament anglers and his opinion is highly regarded. He'll be a great ambassador for us."
Mike had this to say about joining Team ShredFin:
"When I saw the ShredFin booth at the 2021 Kayak Bass Fishing Expo in Shreveport, and met the team, I knew it was something I wanted to be a part of. They have awesome apparel for anglers, and the logo immediately caught my eye. I look forward to building a long-lasting relationship with ShredFin and helping them move the needle and grow the brand in the sport of kayak bass fishing."
You can follow Mike's social media pages here:
Facebook: https://www.facebook.com/MikeElseaFishing
Instagram:  @mikeelsea
---