---
---
Unleash your passion with these eye-catching DriFit shirts from our Xtreme Performance Line. 
Weighing in at only 3.8 ounces, these awesome shirts will keep you cool and comfortable during those hot days on the water. The built-in moisture wicking technology wicks away moisture like a champ so you can focus on catching fish.  The UV protection will keep you protected from the sun's harmful rays. 
Everything you want in a performance shirt:  light weight, roomy, super breathable, and comfortable.  ShredFin Nation is raving about these shirts, and you will too!
Will not shrink.
---
Customer Reviews
12/30/2020
Scott C.

United States
ShredFin does it Again!
Great shirt! Its super light to wear and comfortable. Goes great with my new ShredFin red and black hat. Stay cool out there!
We greatly appreciate you taking the time to leave a review Scott! We're happy that you are enjoying your ShredFin performance shirt!
12/29/2020
Robert R.

United States
Love it!
Love the feel of this shirt and the color options are hard to beat!
Robert, thank you for leaving us a review. We are ecstatic to hear that you are loving your ShredFin performance shirt!
12/28/2020
Jay P.

United States
Comfort
The Shredfin apparel is second to none on comfort!
Jay, thank you for the great review! We're glad that you are pleased with your shirt. You're spot on...these shirts are super comfortable!
12/28/2020
Gregory L.

United States
High Quality gear
Bought this shirt to match the res and navy hat. Looks great, the quality is awesome and you won't find faster shipping!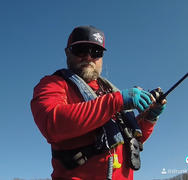 Appreciate the review Greg! We're super excited that you're please with our gear! We strive to ship all items our same or next day, and we are glad that you took notice!