---
---
Our sharp ShredFin neck gaiter face mask will keep you protected from the sun and wick away moisture during the hot months. During the colder months it will protect you from the wind and keep your neck, face and ears warm.
It's versatile style will allow you to wear it in a variety of ways from covering just your neck, or covering your neck, face, head and ears. The ShredFin neck gaiter will become one of your go-to items while on the water!
---
Customer Reviews
02/27/2022
Jack W.

United States
Neck Gaiter
This Shredfin neck gaiter is VERY comfortable and will help keep your ears, neck and face warm during colder months. I HIGHLY recommend you adding one to your cart before check out.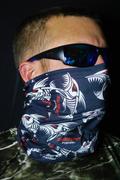 Glad that you are pleased with your gaiter Jack! Thank you for taking the time to leave us a review!
01/12/2022
William M.

United States
Awesome company
Their products are hands down the best on the market.
Thank you William! We're very happy that you're pleased with our products. Appreciate you taking the time to leave us a review.
10/22/2021
Justin P.

United States
Great Product ShredFin
Each gaitor was individually packed and was of great quality. The speed of servicing and shipment was second to none. The entire customer service experience was flawless. You can tell this is a veteran owned and operated company! Great work to all!!
Thank you for the great review Justin! Glad to hear that your were pleased with the neck gaiters.
04/19/2021
Kirk K.

United States
Excellent
Great neck gaiter right length unlike others
Kirk, glad that you are pleased with your neck gaiter! Thank you for ordering from us and taking the time to leave a review.
03/02/2021
Andy P.

United States
Nice Gaiter
Nice product. As described
Glad that you like your neck gaiter Andy. Thanks for ordering from us!