---
---
Unleash your passion with these eye-catching DriFit shirts from our Xtreme Performance Line. 
Weighing in at only 3.8 ounces, these awesome shirts will keep you cool and comfortable during those hot days on the water. The built-in moisture wicking technology wicks away moisture like a champ so you can focus on catching fish.  The UV protection will keep you protected from the sun's harmful rays. 
Everything you want in a performance shirt:  light weight, roomy, super breathable, and comfortable.  ShredFin Nation is raving about these shirts, and you will too!
Will not shrink.
---
Customer Reviews
01/21/2022
Jimmy A.

United States
Freedom shirt Drifit Shredfin
This shirt is awesome it is very comfortable great quality Proud of the American flag on the back
We're happy that you are pleased with your Freedom shirt Jimmy! Thank you for taking the time to leave us a review, and thanks for your business...we appreciate it!
12/20/2021
Michael

United States
Awesome shirts
This shirt is awesome. Well made, comfortable, and America all the way.
Glad that you like our Freedom shirt Michael! Thank you for taking the time to leave this great review!
07/20/2021
Blake L.

United States
Freedom!!
The Freedom shirt delivers great looks,quality, comfort, and as always I received ShredFin's stellar customer service! Couldn't be happier to continue buying the clothes that keep me comfortable outdoors from this company!
Glad to hear that you are loving your new Freedom shirt. Thank your for the great review!
02/24/2021
Jay

United States
Patriotic
This DriFit model is a must for your performance apparel wardrobe. Summertime in the USA calls for this shirt!
Jay, thank you for taking the time to leave us a 5-star review. We agree, the Freedom shirt is a must have!
01/10/2021
Parker L.

United States
I purchased hats, a hoodie, a shirt and a performance shirt.
I am very Impressed with ShredFin, they have amazing products that are very bold and stylish! All of my gear is extremely comfortable and I am very happy with my purchase.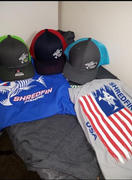 Parker, we are very glad that your are pleased with our products! Thank you for taking the time to leave this outstanding review!